Mexican lifestyle magazine Pagina Uno is, and has been, led by multiple individuals with familial ties to associates of drug cartels, including the Cartel de Jalisco Nueva Generacion (CJNG), which the U.S. has called one of the most dangerous transnational criminal organizations in the world.
The magazine, which publishes monthly, covers luxury, fashion, travel and technology, among other topics, according to a review of the publication by Kharon. It is available online via its own website and Issuu, a platform widely used in the media sector to upload publications.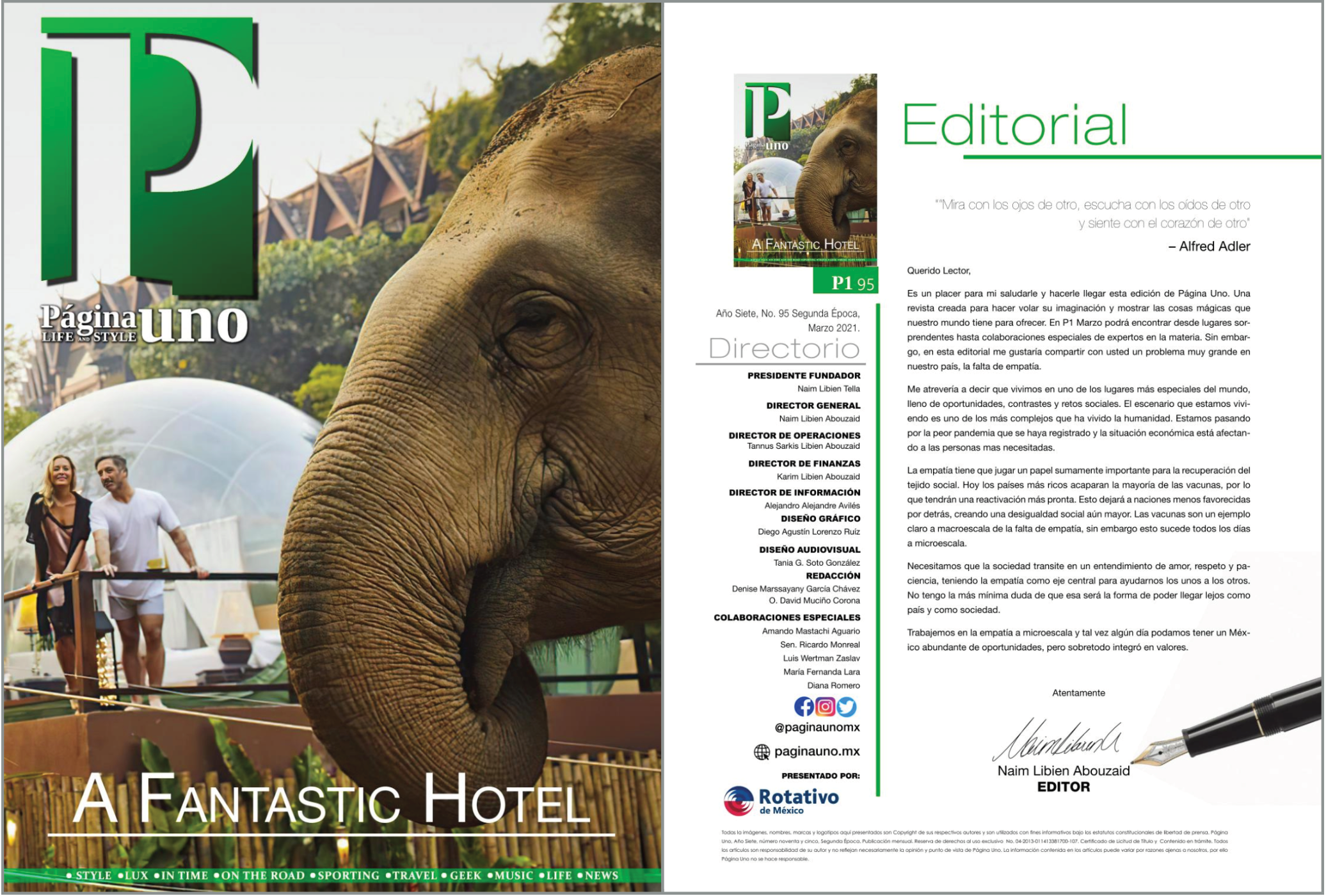 Naim Libien Tella and his son, Naim Libien Abouzaid, both appear at the top of Pagina Uno's masthead in its latest issue, as president and director general, respectively.
Libien Tella, who had been sanctioned as a facilitator for the Los Cuinis Drug Trafficking Organization (DTO) in 2015, was delisted by the U.S. four years later along with Unomasuno, a Mexico City-based daily newspaper. 
Los Cuinis is the financial arm of CJNG; the two organizations were sanctioned together in 2015, along with the leaders of each group. They each had commercial interests in a wide array of economic sectors, Kharon reported in July 2018. Much of Los Cuinis' activity is conducted through family members, Mexican media has reported. 
Libien Tella married Yamile Abouzaid El Bayeh, a competitive triathlon athlete, and the two filed for divorce in 2016. They are the parents of Naim Libien Abouzaid, according to a July 2020 report by En Frecuencia, which covers the Mexican radio and television industries. 
Yamile's brother, Juan Manuel Abouzaid El Bayeh, was sanctioned by the U.S. earlier this month for his high-level role in facilitating drug shipments and money laundering for CJNG. He "maintains a close relationship" with senior leaders of the cartel, the U.S. Treasury Department said at the time.
Abouzaid El Bayeh, who was arrested March 9 in Jalisco, Mexico, was indicted by the U.S. on drug trafficking charges. He had been on Pagina Uno's masthead from January 2014 through February 2016, serving as executive director of its Jalisco operations, Kharon found. 
Abouzaid El Bayeh's sister Salime, who was sanctioned in 2017 for managing or playing a role at several entities designated for their ties to Los Cuinis, was on the Pagina Uno masthead from December 2013 to February 2016. Abouzaid El Bayeh allegedly owned Unomasuno as of July 2020 with his other sister, Yamile, media reporting shows; Salime also had a role at the newspaper, the Treasury said at the time she was sanctioned. 
Naim Libien Kaui, Libien Tella's father, bought Unomasuno in 2002. Libien Kaui's daughter, Karina Raquel Libien Rocha, issued a statement earlier this month through Unomasuno's social media account denying Abouzaid El Bayeh's role at the newspaper. 
Libien Rocha said she is an owner of Unomasuno, and that no owners or individuals "related to illicit activities" have ever been involved with the paper. After the statement was issued, some Spanish language media reporting removed the mention of Abouzaid El Bayeh's alleged ownership of Unomasuno.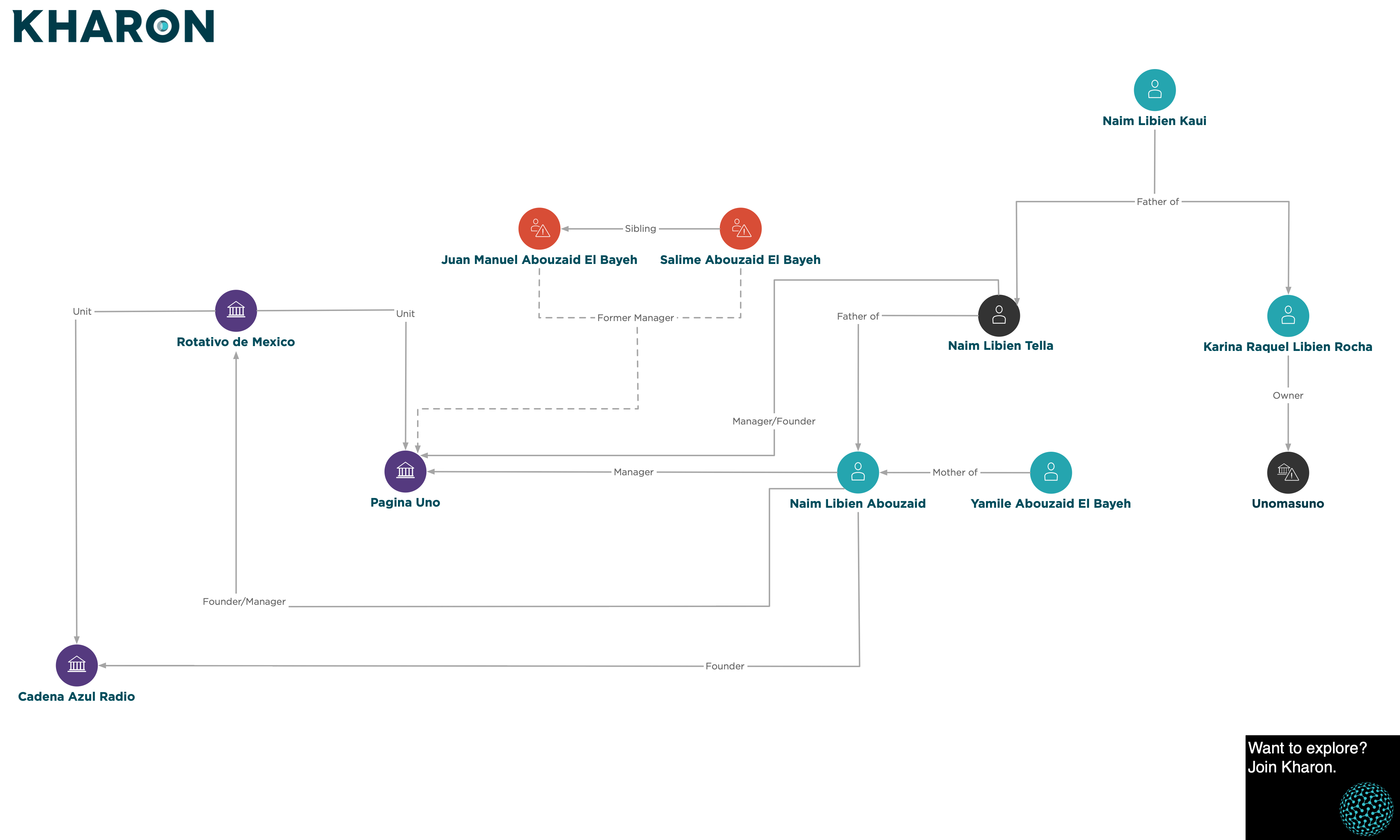 The family has also used the magazine to support its own initiatives, Kharon found. 
Pagina Uno has run ads in a few issues for a cultural organization called Jovenes Mexicanos de Ascendencia Libanesa, or Jomali A.C., which is dedicated to event planning and volunteer organizing for the Lebanese-Mexican community. Libien Abouzaid is a member of the board of directors of Jomali and has appeared repeatedly on social media attending its events. 
In several issues, Pagina Uno has also run ads for Cadena Azul and Rotativo de Mexico, media outlets tied to the family. Since October 2019, the magazine has been "presented by" Rotativo de Mexico, according to the masthead; the logo for Big Bang Global, a Mexico-based advertising agency that at one point said it "offer[ed] quality content" alongside Unomasuno, had appeared there until November 2019. 
Big Bang Global was a "holding company" consisting of "business units" including Pagina Uno and Rotativo de Mexico, it said in a February 2017 Facebook post. Now known as Wow Innovation Agency, the company has "business centers" in the U.S., Spain, across Latin America and elsewhere, according to its website.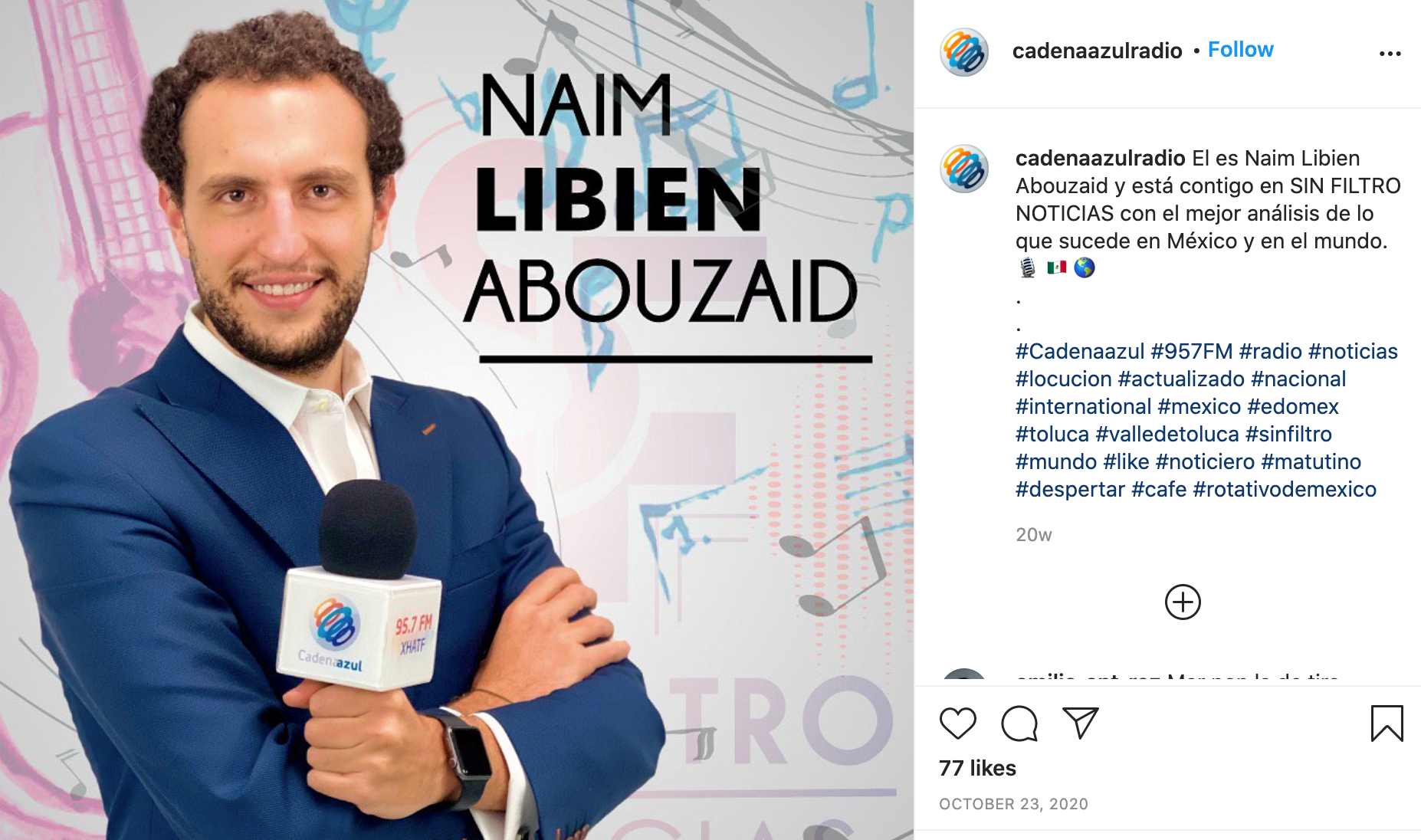 CJNG is the top priority of the U.S. Drug Enforcement Administration (DEA) Los Angeles field office, its special agent in charge told NBC News earlier this month. U.S. and law enforcement officials believe its leader, Nemesio Ruben Oseguera Cervantes, known as "El Mencho," has filled the void left after the capture of Joaquin "El Chapo" Guzman, the NBC News report said. The U.S. has offered a reward of up to USD 10 million for information leading to Oseguera Cervantes' arrest. The group has a significant presence in 23 of Mexico's 32 states, mostly concentrated in the center of the country and at strategic locations along the U.S.-Mexico border, according to the DEA's National Drug Threat Assessment for 2020.  
Cartel-related violence in Mexico has swelled in 2021, as CJNG and other groups, like the Sinaloa Cartel, fight for control of key drug transit and production regions. The town of Jerez, Zacatecas, is a particularly strategic region for cartels located at the intersection of two key highway routes and connected to ports, major urban centers, and the U.S. border. In February, the town suffered seven days of shootouts and grenade attacks. Zacatecas state police and the Mexican National Guard engaged in a near-statewide response to contain the violence. 
Cervantes' daughter Jessica Johanna Oseguera Gonzalez pleaded guilty last week to engaging in dealings with Mexican companies sanctioned by the U.S. for ties to drug trafficking. She faces up to 30 years in prison and is scheduled to be sentenced on June 11, prosecutors said. 
A year ago, Oseguera Gonzalez had pleaded not guilty following an arrest in a Washington, D.C courthouse, where she was visiting her brother, Ruben, who had been extradited from Mexico to face drug trafficking charges. His case is ongoing, according to the court docket.
Oseguera Gonzalez was an owner of two Mexican companies and held leadership roles at four additional businesses under sanctions, and remained in those roles following their designations, prosecutors said. J&P Advertising S.A. de C.V., and JJGON S.P.R. de R.L. de C.V., the two companies Oseguera Gonzalez had owned, were both liquidated in February 2016, months after they were designated, records show. Her husband was sanctioned in October 2016 for providing support to CJNG's drug trafficking activity.